NFL Draft Shows the League Is Still Clueless About Violence Against Women
We are waiting for more changes but it seems nothing is happening.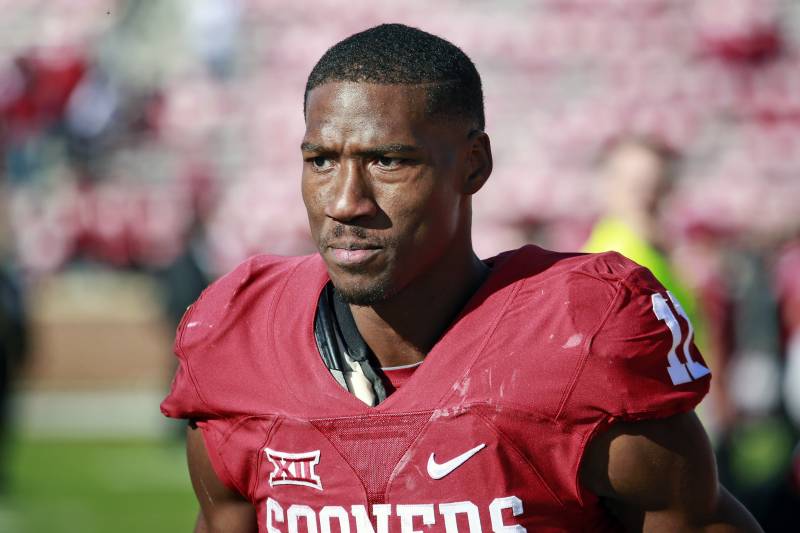 Oklahoma wide receiver Dede Westbrook arrives in the NFL with a handful of ugly accusations in his recent past.Brett Deering/Getty Images
Day 3 news, notes and observations about the draft
1. The NFL's Disturbing New Normal
If you want to understand just how far—or little—the NFL has traveled when it comes to the draft and accusations of violence against women, we need to go back in time, to the year 1996, and a woman named Myra Kraft.
At the time, Myra, who died in 2011, was married to Patriots owner Robert Kraft. The Patriots had drafted defensive tackle Christian Peter, who had been accused of sexual assault—just one of a long list of offenses for which he had been arrested or charged.
Peter was on his way to the team when Myra spoke to Robert and expressed her disdain for the move. Kraft did his own investigation and soon, Peter was cut by the team.
That was considered one of the high points in NFL history for a team taking a stand against drafting prospects who commit violent crimes against women.
The Patriots, since that day, have obviously taken risks on players—both college prospects (namely Aaron Hernandez) and veteran free agents. But as the Peter example showed, there was a time when a player accused of that kind of crime might not only not be drafted high, but also might not even get selected at all.
Now, however, we are watching the pendulum swing back the wrong way so much that a new, ugly normal has taken hold in the sport.
The NFL used to be terrified of the PR that came with drafting someone caught on video knocking a woman out. Not anymore.
NFL teams aren't even shy about their acceptance; they defend it in almost arrogant, unbelievable ways.
This weekend, Oklahoma receiver Dede Westbrook was picked by the Jaguars in the fourth round. He has multiple accusations of violence against him involving the mother of his children. Though Westbrook was not convicted of a crime, the stories are ugly, involving allegedly throwing the woman to the ground and, at another time, punching her in the face.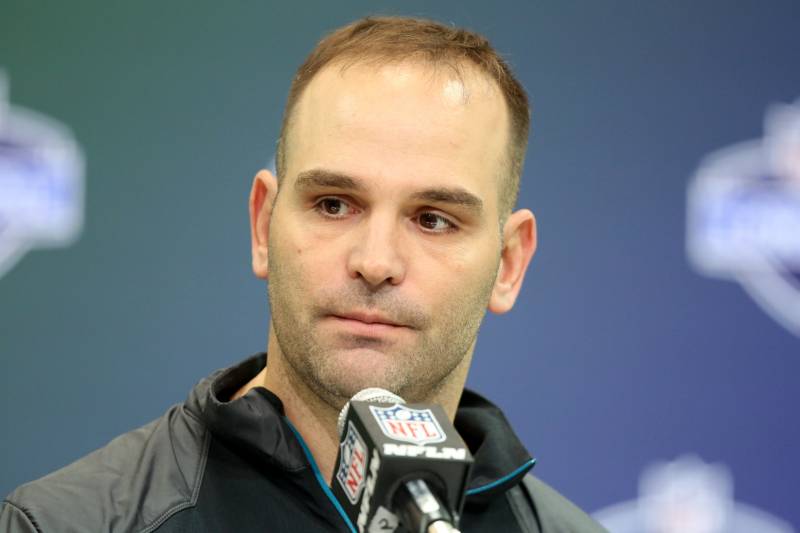 Jaguars GM Dave Caldwell defended his team's selection of Westbook to reporters.Gregory Payan/Associated Press
When asked if he was concerned about the public image of the Jaguars after picking such a controversial player, general manager Dave Caldwell told reporters (according to statements distributed by the team): "I think we have done our due diligence enough to realize that is behind him and that, like we said, all of those charges were dropped. I think we all have been accused of things, not all of us, but many of us have been accused of things. We don't take it lightly. Obviously it is a serious issue, and we just feel like at this point in time to give the kid a chance to make it right."
I don't know many people accused of physically beating a woman multiple times.
But that's just me.
Caldwell's remarks, easily, make up one of the stupidest quotes of the draft.
Some franchises removed Westbrook off their boards, according to sources. But clearly not the Jaguars.
"The charges were dropped," Caldwell said. "There were no charges, never evolved into anything—2013 was the last one, so we felt like that stuff was behind him."
But in these kinds of cases, it is far from unusual for victims not to follow through on their accusations.
The Jags weren't alone.
Cleveland drafted Florida defensive lineman Caleb Brantley, who, two weeks before the draft, was charged with battery after allegedly punching a woman in a bar, and knocking her unconscious. Brantley is 6'2″ and 307 pounds. The woman he allegedly hit is 5'6″ and 120 pounds.
"The incident is very concerning for us," said Sashi Brown, the team's general manager, when meeting with the media. "[It] continues to be a concern."
But the Browns still drafted him.
We don't know if Brantley did it, but not so long ago, the mere possibility he did would have seen him yanked from almost every draft board. Now, it's not even close.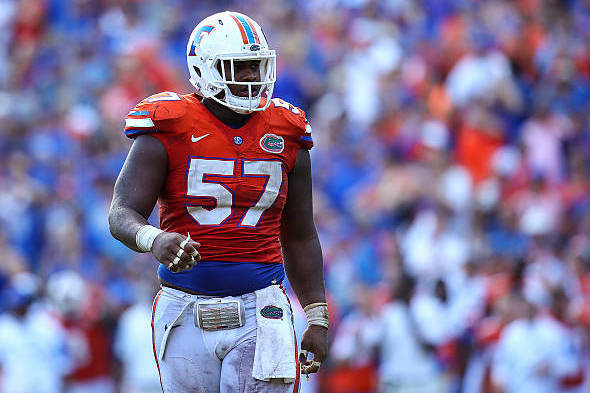 Florida's Caleb Brantley was accused of punching a woman at a bar just two weeks prior to this year's draft.Rob Foldy/Getty Images
And, of course, there is Oklahoma running back Joe Mixon, who was caught on video knocking a woman out. Teams were so bothered by his past he lasted until…the second round.
The Ray Rice case, and resulting fiasco, was supposed to teach the NFL a lesson. But it clearly didn't. Teams now are almost thumbing their noses at how some of these selections appear to the public.
I admit I don't know how the number of prospects accused of abusing women in this draft compares to previous years, but it seems, superficially, this draft has more than I can remember. A lot more, in fact.
Maybe, unlike drafts in the 1990s or 2000s, we have more information than ever before. Or perhaps it's more difficult for campus police departments to ignore, or bury, these cases than it used to be.
It may also simply be women are speaking up about being abused.
For whatever the reasons, it feels that the NFL has not learned anything, that violence against woman is being normalized. I hope that's not the case, but it sure seems like it.
2. He Sounds Like a Real Winner
Todd McShay reported during ESPN's draft broadcast that Westbrook (see above item for more on his checkered recent history) was tossed out of a team scouting combine interview earlier this year.
That is almost impossible to do.
The interviews are only 15 minutes long. They are easy, consisting of questions from teams, and maybe some X's and O's work.
You have to be a real…something…to get thrown out of one.
When asked about McShay's report, Westbrook said, according to Mike Florio of Pro Football Talk: "I don't think I was necessarily kicked out of a combine interview."
Say what now?
When asked what happened, Westbrook added: "I have no idea. I'm not aware of that."
Good luck, Jaguars.
3. Randy Gregory Has Front Offices Buzzing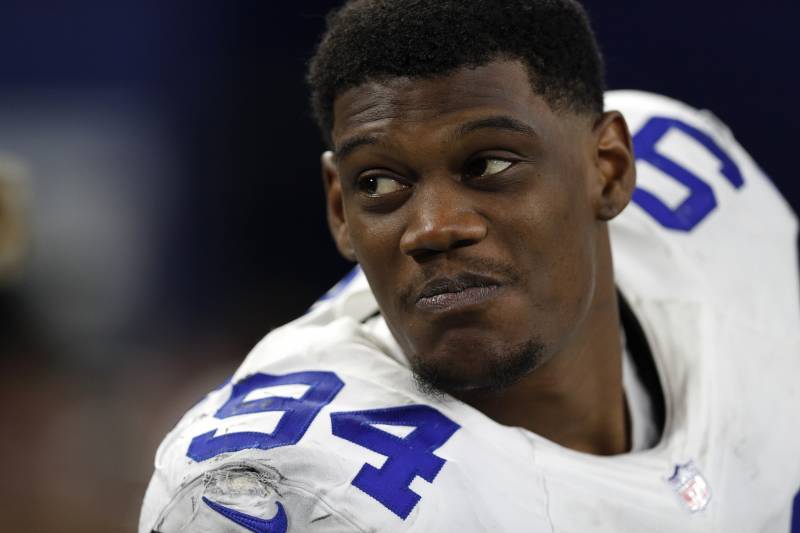 Already on suspension, Cowboys defensive end Randy Gregory reportedly failed his seventh drug test.Brandon Wade/Associated Press
One story making the rounds in draft rooms had nothing to do with this year's picks. It was about Cowboys defensive end Randy Gregory.
TMZ Sports reported that Gregory failed another drug test, his seventh, and that Gregory also ignored the NFL officials attempting to contact him about his drug treatment.
The news had a number of teams wondering privately if this would mean the end of Gregory's NFL career.
Of the five team officials I texted, four said they believed he was done in the NFL, but one said he'd be back at some point because of his talent. He is only 24.
The one executive who said Gregory wasn't done believes Gregory's case will end up similar to that of Cleveland wide receiver Josh Gordon, who failed multiple drug tests and hasn't played since 2014. Gordon, though, recently applied for reinstatement, and some reports have speculated that he might draw interest from a few teams should the Browns part ways with him.
4. Bowl Games Just Aren't Worth the Risk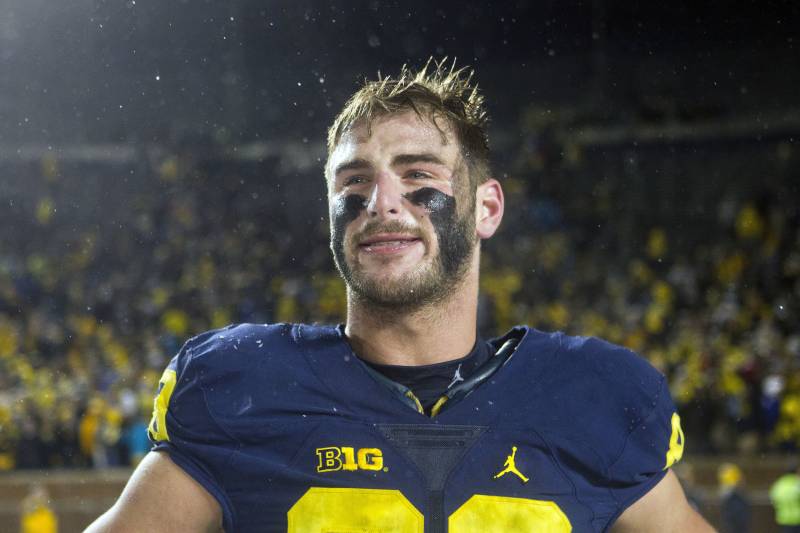 Jake Butt's knee injury in the Orange Bowl saw his draft stock tumble this year.Tony Ding/Associated Press
Reason No. 1 trillion why bowl games aren't just worthless, but can actually be detrimental to top picks: Michigan's Jake Butt.
Believed to be a second-round talent, Butt fell to the fifth round in this year's draft after suffering a torn ACL in the Orange Bowl.
According to ESPN's Darren Rovell, Butt's injury cost him approximately $2.8 million.
5. Philly Kills It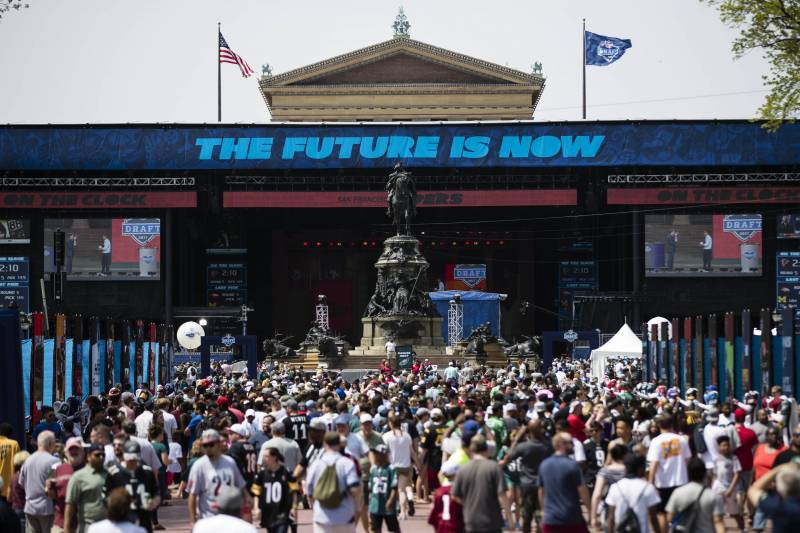 Matt Rourke/Associated Press
This is approximately the 25th draft I've covered, and while I wasn't in Philadelphia, the sense from afar was that this year generated far more intensity and passion than any other draft I've seen.
The draft has always had its excitable fans—mainly those of the Jets and Eagles. (The booing of Donovan McNabb in 1999 by Eagles fans in New York was one of the crueler moments of any draft I've ever seen.)
But the booing in this draft by Eagles fans almost had a playful nature to it, and the players—especially former Cowboys receiver Drew Pearson—played into it.
Now that the final selection has been made, it's quite possible we may regard this as perhaps the most successful draft event in league history.
Mike Freeman covers the NFL for Bleacher Report. Follow him on Twitter: @mikefreemanNFL.