Music Therapy Helps Children Who Have Witnessed Domestic Violence
Youngsters at one refuge have written and produced a song, which they have released on iTunes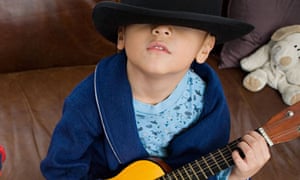 This is in addition to the stream of calls from women in the community seeking advice and guidance, and referrals from local authorities. Many of the women referred to us have children, who have often seen the harrowing abuse inflicted on their parent first-hand.
Unfortunately, this isn't uncommon. Around 750,000 children are believed to witness domestic abuse each year in the UK and, according to Citizens Advice, there was an 11% increase in the number of clients reporting domestic violence last year.
In Birmingham, where Ashram Housing Association is based, it is estimated that as many as 40,000 children are affected by domestic violence. Having worked for 10 years with children who have experienced domestic abuse, I've seen first-hand the impact it can have on them. It can leave children feeling withdrawn, fearful and depressed, and can lead to involvement in drugs, alcohol and dysfunctional relationships.
Despite this, gaps in service provision to address the impact that domestic violence has on children are set to widen as cuts are made across the social care sector. In response, we are increasingly looking to innovative, low-cost activities and partnering with other agencies to find ways to help alleviate the effects of domestic violence on children. Music therapy is one such activity that we have researched and pioneered, becoming, we believe, the first refuge in the country to open our own therapeutic music studio.
Funded entirely through donations, the studio, which opened last year, offers children a way to express their feelings about the abuse they have witnessed through music. Volunteers, including local musicians, work with children, teaching them how to play instruments and how to use software programmes to record music. Not only have we found that music instils a sense of achievement and confidence, but it also boosts children's key skills in communication, listening and technology.
Children at the refuge have gone on to write, produce and launch their own song, called You and Me, which they have released on iTunes last month. They are incredibly proud of the song and we hope it will help to highlight the impact that domestic abuse has on children.
A choir called Harmony in my Life has also been formed at the refuge and has been particularly successful in helping build self-esteem and confidence among vulnerable women. It has helped some of the women for whom English isn't a first language to increase their understanding of it through reading and learning songs.
We believe that music therapy offers another way to support children who have been robbed of their youth, complementing our more traditional services such as one-to-one and group counselling sessions.
The reality is that the cuts are biting and if we want to continue to deliver excellent children's services, we must evolve and be innovative in our approach. Children's experiences of witnessing domestic abuse are often similar, but the impact they can have on them is very different.
It is vital that social care providers work together, share knowledge and offer new services, which, combined with standard therapies, address the needs of women and children who have nowhere else to go, and in turn create happy, settled families.
Sahdaish Pall is refuge manager for Ashram Housing Association, which is part of the Accord Group, a not-for-profit housing association that provides community-inspired housing and social care services
Why not join our social care community? Becoming a member of the Guardian Social Care Network means you get sent weekly email updates on policy and best practice in the sector, as well as exclusive offers. You can sign up for free here.
Since you're here…
…we have a small favour to ask. More people are reading the Guardian than ever but far fewer are paying for it. And advertising revenues across the media are falling fast. So you can see why we need to ask for your help. The Guardian's independent, investigative journalism takes a lot of time, money and hard work to produce. But we do it because we believe our perspective matters – because it might well be your perspective, too.
If everyone who reads our reporting, who likes it, helps to pay for it our future would be much more secure.